CSG Renovation is proud to serve backsplash tile installation in Toronto and all across the Greater Toronto Area. Adding new and colorful tiles or installing backsplash is certainly going to improve the look of your home. No need to spend a fortune for any major renovation. Doing these simple and cost-effective measures will add to your home's elegant look. You can apply this simple value-addition to your home and see the value of your home increase by many thousands of dollars.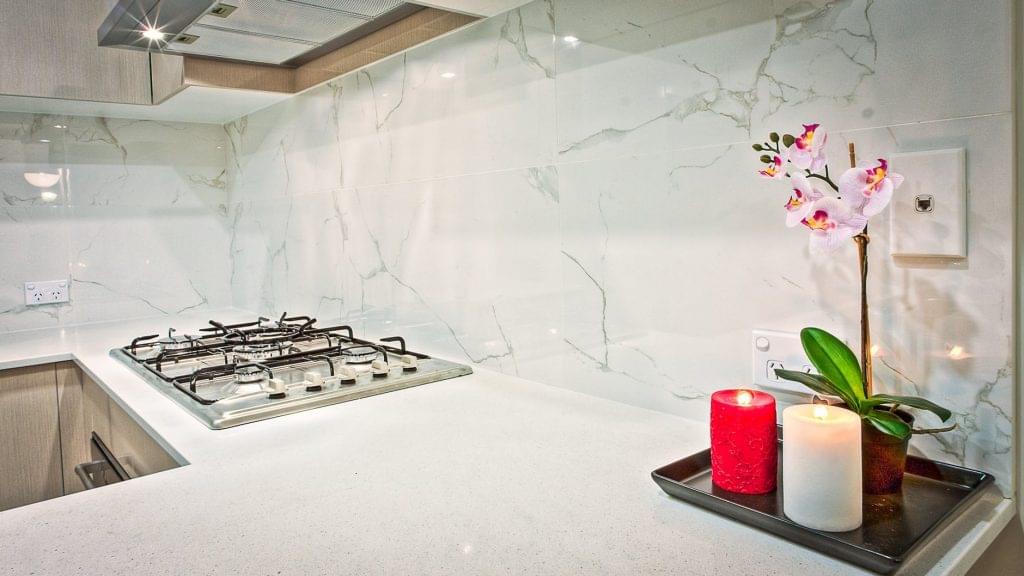 Experts say that a kitchen is the focal point of any household. The way it looks has a lot to depict on the house owner's attitude towards health and hygiene. If such a prominent corner of your home has an outdated and damaged backsplash, it not only ruins the look of your kitchen but also pulls down the aesthetics of your home. If you are bothered by a damaged backsplash, replace it immediately. Apart from aesthetics, a well-made backsplash protects the drywall of your home from potential water damage.
CSG Renovation Inc. is specialized in beautifying and remodeling your fireplace hearths. Our service ranges from doing faux stone to tiles and much more. We take special care to renovate your fireplace with such expertise that it turns into an eye-candy.

To combat modern day's stress, you deserve to have a luxurious bathroom. There you can go for a relaxing shower or take a destressing sauna to uplift your mood. The expert crews of CSG Renovation Inc. are adept at enhancing your shower experience and giving you and your family a rejuvenating spa every day by remodeling your shower enclosures. We personalize your requirement by providing custom-fit basin, painting your bathroom walls and floor with the color of your choice to make every visit to your bathroom an enjoyable experience.
Steps:
Old tile Removing
Measuring the Wall
Preparing the Workspace
Preparing the Wall
Pre-laying the Tile
Preparing and Applying the Mortar
Laying the Tile
Drying the Tile
Cleaning the Tile
Preparing the Grout
Grouting the Tile
Sealing the Tile
Crucial Factors to Consider Before You Start Tiles, Backsplash Installation
Laying floor or wall tiles require skilled hands as it involves multiple essential elements related to installation. At CSG Renovation Inc. we assign a team of professional tile installers for every project to scrutinize the condition of sub-floor and see if it needs leveling. Having a solidly built and properly leveled sub-floor is extremely crucial for the tile to get a firm grip on the floor. Many contractors, unlike CSG Renovation Inc., purposefully skip these steps as they don't have floor leveling experts like we do.
The flooring experts of CSG Renovation Inc. give prime importance to size, type, and quality of the tiles. Specific challenges are involved in getting the desired results from an installation by reduction of wastage and adopting custom-fit installation techniques for ceramic, travertine, granite, marble or porcelain. The modern-day designers are fond of larger tiles like 12"x24", 24"x24" and 24"x 48". The sheer size and weight makes it even more challenging to cut, level and install but the expert technicians of CSG Flooring Inc. are capable of handling any tricky installation.
Our Tiles & Backsplash Installation Service
Our service offerings are tailored for residential and commercial settings like:
Kitchen Backsplash
Shower enclosures
Fireplace a hearths
Different kinds of Tiles-Ceramic, Stone, Porcelain, stacked stone, glass, Faux brick and much more
Testimonial
My wife wanted to get the kitchen renovated with new wall and floor tiles. We hated the faded tile colors over the countertop. We wanted a trusted and experienced home renovation company to modernize the look of our kitchen. After a lot of online and offline searches, we finalized CSG Renovation Inc. and were delighted by their professionalism, timeliness and innovative approach. After the work got over, we were so happy to see the new look of our kitchen. Thanks to CSG Renovation Inc.

Marc Stiffler
CSG Renovation Inc. was my savior in the biting North American cold. Their technician infused brand new life to our old brick fireplace hearth and mantle. Earlier we used to hide the old fireplace behind room furniture from everyone's eyes, after its makeover the fireplace became of the focal point of our house. We would highly recommend CSG Renovation Inc. for its efficiency and quick turnaround.

Sarah Fowler
Do You Need Tiles and Backsplash Installation Services?
Over last decades, the expert crews of CSG Renovation Inc. installed marble, travertine, granite, ceramic and engineered stone tiles in industrial, commercial and residential settings. CSG Renovation Inc. has a team of licensed, bonded and certified tile installers who ensure smooth tile installation for all the clients.
Why You Should Choose Us
CSG Renovation Inc. has completed numerous tiles installation jobs in Toronto and around the Greater Toronto Area for many years. Our persistent effort to raise the bar of service standard has created a large base of loyal customers who vouch for our service quality and commitment. Owners of commercial and residential complexes can place their trust in the abilities of CSG Renovation Inc. for installation of fireplace tiles, backsplash and shower enclosures.
Materials we work:
ceramic
faux brick
glass
limestone
marble
metal
mosaics
natural stone
porcelain
quartzite
sandstone
slate
stacked stone
travertine
vinyl
Our areas of operation
We provide a diverse range of Tiles, backsplash, and fireplace installation services in Toronto and across GTA, which include:
Ajax
Aurora
Barry
Bradford
Burlington
Caledon
Etobicoke
Hamilton
King City
Maple
Milton
Newmarket
Nobleton
North York
Oshawa
Pickering
Richmond Hill
Scarborough
Stouffville
Thornhill
Whitby
Woodbridge
Why Choose CSG Renovation Inc.
CSG Renovation Inc. has a robust team of experienced tile installers and home renovators. They work with high-quality materials. They are capable of offering simple to highly customized services to different commercial and residential setups. Call us at (647) 428-0007 to discuss with our experts and get a free service estimate.