As a homeowner, you most probably don't show your guests your basement when you take them around your residence. In most instances, the basement is dark and inhabitable. You most definitely don't want to show that kind of a place to your friends lest you are ridiculed. You don't have to worry anymore. We are a leading basement renovation company with the ability to give a new lease of life for your home. We can transform the room into a gem for your house. This will make it more functional and increases the value of your home.
You can convert your basement into as per you desire. You can turn it into a guest room or a living room or even a bar. Turning your basement into a bar makes it an attractive social space where you can spend time with your friends. This is a shift from the place of ridicule to an entertainment spot. We offer you a wide range of wet bar designs that you can choose from.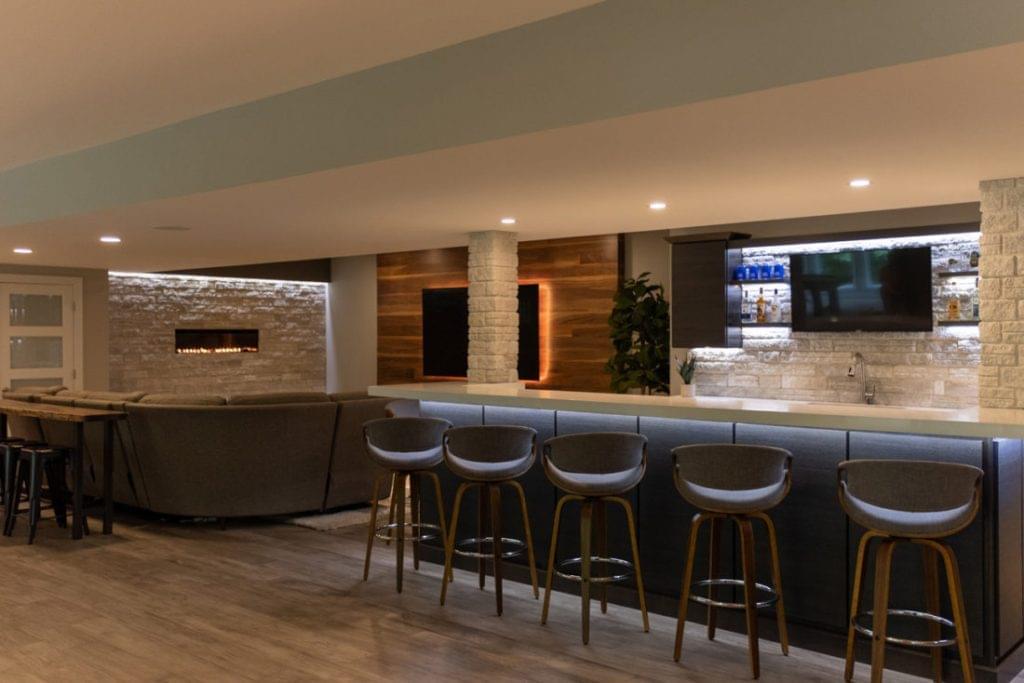 Effectively creating your basement bar
First, share with us your preferred wet bar design from what we have on offer and what you intend to have. We will come for an assessment of your current basement space. This will help us in advising you on the best design for the basement. We will also consider the budget you have in place and your intended plan. When going into this kind of investment, you should have in mind that the renovation should reflect on those personal needs and styles you desire to have in the wet bar.
Starting it off
You have to prepare for the process of renovation for a perfect finish in accordance with your aspiration and desire. Just like in any other home that has not put their basement into specific use, it is a store where almost everything not needed is damped. Yours is not exceptional. You will need to first clear off the basement space as much as possible. With a blank space, we are better placed to give your basement a resounding touch.
Process
For purposes of efficiency and perfection, we will design the space with the budget you have provided. We also use the best materials which will not only guarantee your wet bar a beautiful finish but will also be durable enough. For the counter, we promise you high-quality granite counters. We can also do the best sound installation for your basement wet bar. We will further ensure that the storage cabinets are attractive and with the desired color schemes.
With all these measures put in place, you can be assured of the best finish ever. It is a space that you can invite your friends into when they come to visit you. This wet bar can also save you the hustle of having to go outdoors for a drink. It also allows you to save on the drinking costs as you will now purchase drinks on wholesale. Try us today for the best outcome.
Our areas of operation
We perform renovation and repair works in Toronto and all around in the Greater Toronto Area including:

What Are Our Clients Saying?