CSG Renovation is proud to serve popcorn ceiling removal in Toronto and all across the Greater Toronto Area. Popcorn Ceiling is a form of a textured ceiling that helps to minimize the echo effects and absorb high volumes or loud sounds. The name may sound modern, but the look and architecture are hailed from the past. In modern houses or condominiums, popcorn ceiling is rarely used. Nevertheless, it may not be in style, but this old fashioned ceiling is not yet extinct and very much present in the old houses and yesteryear's bungalows.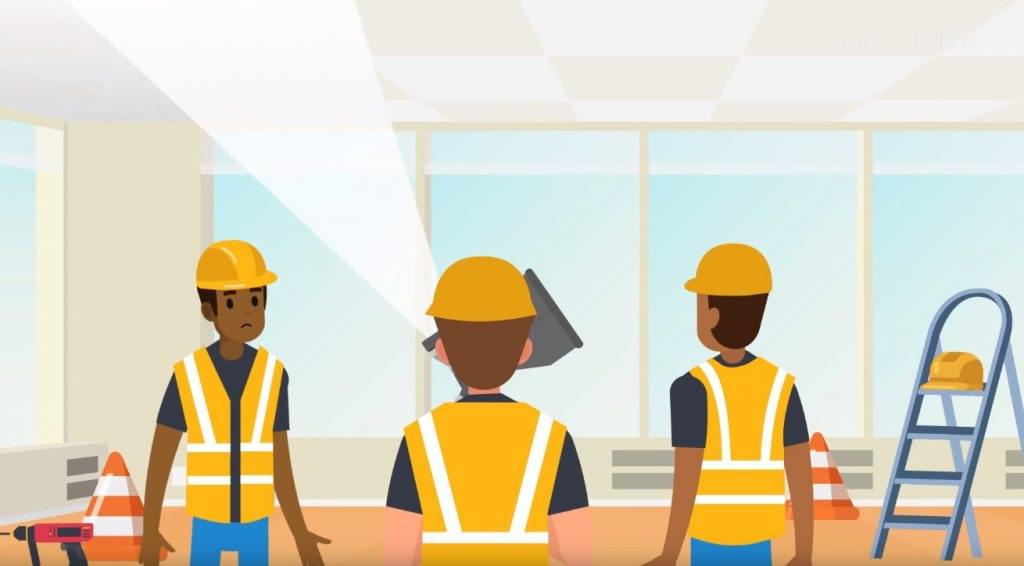 The primary challenge with popcorn ceiling is that it takes a herculean effort to remove. It is not advisable to try removing it yourself; instead, it should be left with the expert hands of renowned home renovators like CSG Renovation Inc. After all, safety comes first, and our expert technicians always prioritize the customer's safety before anything else.
Crucial Factors to Consider Before Removal of Popcorn Ceiling
Popcorn ceiling is sometimes packed with asbestos and lead, which can create a hazardous situation if not handled properly.
Dealing with asbestos require careful maneuvering by skilled hands. CSG renovation Inc. strongly recommends that you seal off the room during the popcorn ceiling removal process and tell your family members to steer clear of the place until the ceiling removal, painting, and dust cleaning process are completed.
Our works:
Failed Diy Popcorn Ceiling Removal
Insulation
Framing
Drywall
Painting
Moldings
Flooring
Legalize Basement Suites
Painting Ceilings
Popcorn Texture Removal
Repairing Textured Ceilings
Ceiling Rough
Unfinished Concrete Slabs
Flood and Water Damage To Ceilings
Stain Repairs
Wavy Concrete Ceilings
Our Popcorn Ceiling Service
Well, before initiating the removal of the popcorn ceiling, we need to familiar with it's built and texture. Before 1970, popcorn ceiling used to contain white asbestos, which used to be ready with spray or paint-on ceiling treatment. The mechanism changed post-1970, gradually the spray-on treatment was replaced by styrofoam and paper-based products. Removing the latter is more complicated and requires the touch of an expert.
Testimonial
I was planning to get my ancestral bungalow renovated, but before initiating the actual process, I had to get many old parts of my house either repaired or removed. When I called CSG renovation to seek a solution, they suggested the removal of popcorn ceiling first and gradually move on to other parts. It was complicated to remove that age-old bulky ceiling. The expert technicians of CSG Renovation made it look so easy. They completed the job within the specified timeline. My hearty recommendation goes with CSG Renovation Inc. Thanks.

Joe Jonas
If you want to get your popcorn ceiling done in affordable pricing yet make it look elegant, hire contractors from CSG Renovation. I called them during the last weekend, and their crews were so professional and knowledgeable, they completed the work ahead of schedule and with zero slippage. Their planning, execution and putting the design elements into perspective were worth experiencing. I will always recommend CSG Renovation Toronto for any work-related home renovation and repair.

Andrea Murray Anderson
Do You Need Popcorn Ceiling Service?
To give your home a sleek and classy look, you need to get the popcorn ceilings removed. Irrespective of whether you want to live or sell in your home, popcorn ceiling removal will make a noticeable difference in your home décor. Potential buyers will have a second thought in buying your home if they are left to do other renovation after buying.
If you consider the aesthetic angle, you will notice that the surface of any house develops a yellowish tinge with time. The yellow stain can also be caused by water leakage. Covering the stain with popcorn ceiling is not advisable as it will show up again. Call your trusted renovation partner CSG Renovation Toronto today to get a permanent solution.
Benefits of Removing Popcorn Ceiling
Taking off the popcorn ceiling makes painting your ceiling easier end ensures better quality. Repairing popcorn ceilings is never an easy task. A smooth-surface ceiling is the best way to ensure easy painting and repair.
Again, if you intend to sell your home, remove the popcorn, and it will become more attractive. It is most likely going to boost the price of your home.
How Much Does It Cost To Remove A Popcorn Ceiling In Toronto?
You don't need much to remove the popcorn ceiling, yet it increases the value of your home. The price is usually dependent on the ceiling's size and height, and the paint. Whatever the price, the good news is that it leaves your home in a wow state!
Why You Should Choose Us
CSG renovation Inc. has a decade long experience in providing a high quality, innovative and affordable solution for every residential and commercial renovation project. We value your time and always strive to go beyond your expectation within a specified timeline.
We will do away with that old and ugly popcorn look and give your home a perfectly smooth textured finish that instantly increases its value. We will scrape off that old popcorn, then texture the wall and give it the color of your choice. It will cost you far much less to remove the popcorn, compared to the value addition that your home gets.
Our other services
Floor Protection
Scrape
Strip
Encasement
Sand Each Coat
Skim Coat
Level 5 Polish
Touchup Ceiling
Prime & Paint
Plastic Painter's Sheeting
Painter's Tape
Step Ladder
Drywall Compound
12″ Drywall Taping Knife
6" Drywall taping knife
Mud Pan
Our areas of operation
Our Contractors deliver all types of popcorn ceiling services in Toronto and across the Greater Toronto Area such as:
Ajax
Aurora
Barry
Bradford
Burlington
Caledon
Etobicoke
Hamilton
King City
Maple
Milton
Newmarket
Nobleton
North York
Oshawa
Pickering
Richmond Hill
Scarborough
Stouffville
Thornhill
Whitby
Woodbridge
Why Choose CSG Renovation Inc.
CSG Renovation comprises a team of home renovation and painting experts to provide a comprehensive range of personalized services to various residential and commercial setups. Call us today at (647) 428 – 0007 to talk to our experts and get a free estimate.