Condo Renovation Ideas in Toronto
There is always a need to change your lifestyle at any one given time. One of the best ideas in Toronto is the condo upgrade idea. If you are looking forward to renovating your condo while in Toronto, our team of experts at CSG will perfect the work for you. No matter the size of your condo, we are available to offer you the best renovation ideas and bring your imagination into reality.
Condo Living Room Renovation
Nothing brings life to a family than a well-done living room. This is the only room where family and friends can sit and enjoy their free time together.
As such, it ought to be comfortable and relaxing. On the same note, any living room happens to occupy the largest space in the entire house, and condo living rooms are a replica of the same. Therefore, a condo renovation idea blending well in the room and extending to the kitchen will benefit a lovely house.
Among the updated renovation ideas we have for your living room include the following;
Upgrading Your Furniture. The furniture should fit well in your living room. Avoid doing so much bringing couches that will fill your room or bookshelves that will never be used. This will only take up your space, making the room look disorganized. Instead, allow your décor to bring life to the room, have beautiful pillows placed on the couches, or put some rugs on the floor of beauty.
Flooring. Flooring comes in tons of styles; for instance, using a carpet, high-end tiles or a hardwood floor that will include an extension to your kitchen.
Painting. You can opt to change your paint colors as per your theme of choice. For instance, paint one wall with a light color and another with a dark color to bring some natural feeling to the room.
Design Accents. If your room lighting matches your size, go for the large pendants that work extremely well in open spaces. Add an artistic touch to your condo by adding gallery walls that blend with the lighting. You can add beauty to it by adding large mirrors in specified corners and with different shapes. And besides, a chandelier can work perfectly even when it is a small crystal portion.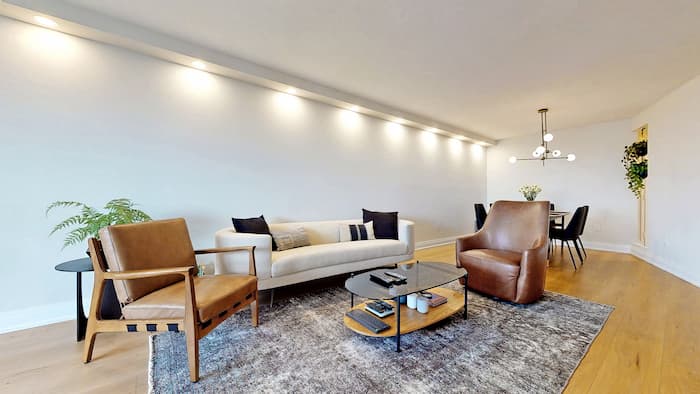 Bedroom Renovating Ideas
Because your bedroom means everything to your relaxing moments, you should work towards giving it a healthy, natural, and relaxed mood. 
Walls Painting. Upgrade the walls with natural colors such as blue, pale, and white, bringing freedom.
Flooring. Place a carpet on your bedroom floor that should blend with your bedding or other decorations. Avoid the sight of hardwood floors and bring in the essence of a natural feeling.
Upgrade Your Room Lighting. There is always a feeling of romance and rest when in a well-lit bedroom—for instance, hanging pendants with different colors and changing them often for a change of mindset.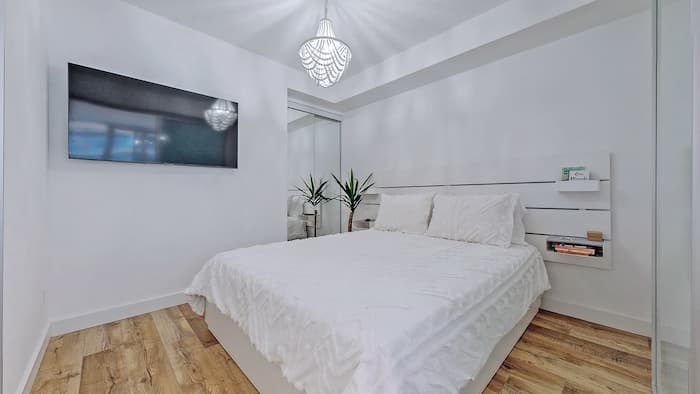 Condo Kitchen Remodels
In most cases, kitchens become the main focus of your condo; in this case, they are usually smaller than a real family home kitchen. As such, there is a need to look closer at the renovation ideas and see how you can utilize the available space to generate a well-balanced new style. This will, of course, depend on the shape of your room. For example, there is an open and closed kitchen. But with proper design, though small, the area will still look spacious and well-aerated.
When updating your kitchen, look for modern designs and try matching them in your kitchen. For instance;
Upgrade Your Kitchen Cabinetry. One of the most renowned condo renovation ideas is the change of cabinets, especially when the kitchen space is small. You can use your small space to the maximum by installing pull-out racks, dividers, or even the lazy Susan's.
Change of Countertops. This is another great condo renovation idea. For instance, the use of granite is a popular material.
Changing the Floor. You can use new modernized tiles, use hardwood for flooring and design it in natural designs.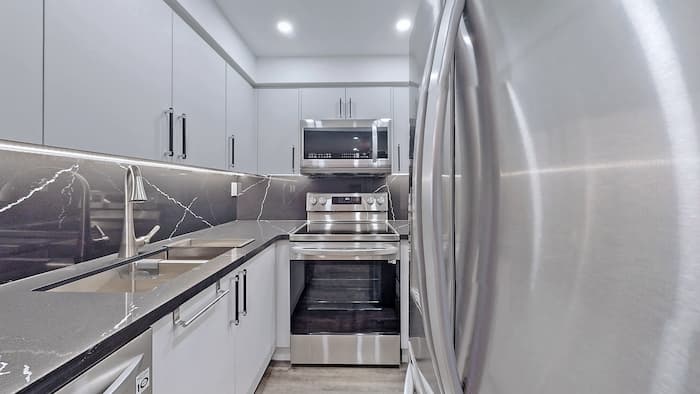 Condo Bathrooms Renovation
In most condo bathrooms, chances are that they occupy a small space and often become a challenge to renovate. However, this does not call for ignoring the bathroom entirely. Some of the great ideas that you can implement include the following;
Walls and Flooring. Use traditional but neat tiles in the bathroom. This is the best design to avoid falls and accidents.
Tile Upgrade. Modernize this using hexagonal tiles instead of the old square ones, depending on your preference.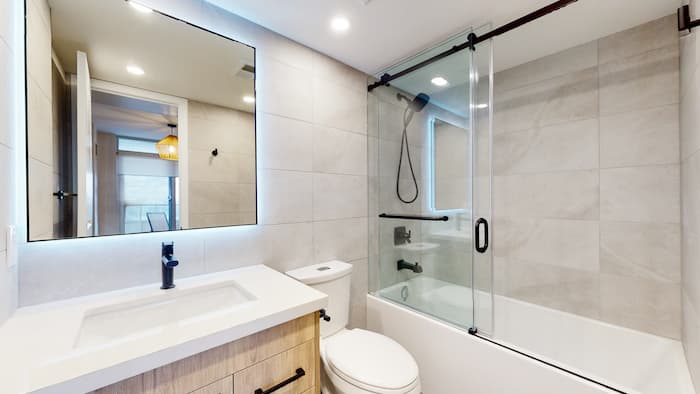 Now, with the overview of what we will provide for your condo upgrade ideas, several items will be required to put into the budget when working towards the entire renovation. The below table shows the items that will play a great deal.
| Room | Most Required Items |
| --- | --- |
| | |
| | Tiles, Bathtubs, Modern Showers |
| | Flooring items such as carpets and hardwood. Others include decors, lighting, and new paints. |
| | Paints, natural lighting, artificial lights, carpets, and naturally decorated walls. |
CSG Renovation for Your Condo Renovation
Do not fall into the wrong hands when renovating your condo in Toronto. It's imperative to work with the right company with experienced staff that will deliver quality.
CSG Renovation is one of the top-rated renovation companies in Toronto and its surroundings and offers quality services to meet the customer's needs. No trusted company can beat CSG Renovation in renovation ideas in Toronto and GTA. Besides, we have been in the field for over ten years and are ready to offer your complete and all-under-one-roof renovations.
Because condo renovations require a high budget, and time commitment, we will walk with you hand in hand to ensure that you get value for your money and work within your budget and time limits.
We work on a 360-degree turnaround, so we are not limited to renovating your kitchen alone. We move around your condo, check on the requirements of every room, and run with your vision to perfection.
Besides, we offer exclusive ideas ranging from planning, designing, and rolling our sleeves for an excellent job. Working with CSG Renovation is the road map to a great condo renovation design you can trust.
Are you excited about this? Then read on and see how we will bring exceptional condo design ideas to every part of your rooms.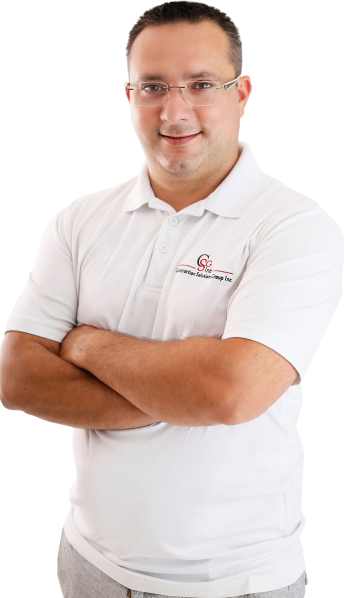 Your Dream Space, Right on Schedule!
Zeev, Founder
Get Free Estimate
and get amazing renovation with remarkable speed!