How to Finish Open Basement Stairs
Whilst it's quick to neglect the basement stairs in a basement renovation, keep in mind that it's the initial element everyone sees when they visit the basement. The steps leading to the basement are among the most significant aspects of a finished basement in regards to functionality and configuration, and the styling possibilities are unlimited. With that in thought, these are a few preferred ways to finish your basement stairs. Also, you may want to reconsider and/or change the finish of the basement walls.
Materials for Finishing Basement Stairs
To finish an unfinished staircase, the following are some of the supplies and tools you could need to carry out the method you choose from the list:
Carpet
Carpet cutter or heavy-duty utility knife
Vapor barrier
Carpet runner
Tackless strips
Electric stapler
Carpet pads (underpad)
Framing square
Vinyl
Tape measure
Regular utility knife
Wood putty
Medium-grit sandpaper
Paints or stains
Method 1: Placing Carpets
One of the greatest methods to finish your basement stairs is to carpet them. Carpets are cozy and welcoming, making them the right choice for any basement stairs.
However, with so many possibilities, selecting the right one for your staircase can be difficult, so these are a couple of points to bear in mind when shopping for stair carpets.
Consider these factors while choosing the best carpet for your basement stairs:
Stain resistance
Durability
Color
Thickness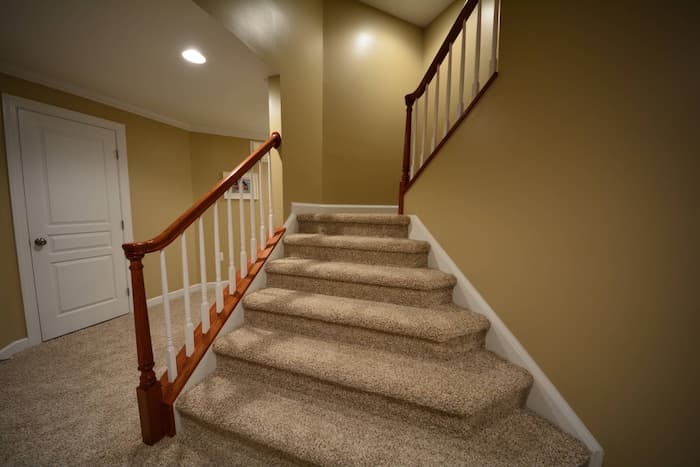 Meanwhile, here are the steps to carpeting your basement stairs:
Stairs should be prepared.
Before cutting the carpet, measure the stairs.
Choosing a carpeting method according to the structural design of your stairs. It can be the waterfall or cap-band technique usually used by carpenters.
Install a vapor barrier to aid in a mold-free and dry surface of your basement stairs.
Advantages of carpeting basement stairs

Disadvantages of carpeting basement stairs

It's more relaxing to walk on.
On the feet, it's lighter and smoother.
Carpeting the rest of the basement is less expensive.
Pets, especially dogs, will love it.
It hides several potential flaws in the steps by covering uneven steps and those with gaps along the edges.

It degrades more quickly.
It becomes filthier more quickly.
Method 2: Installing Carpet Runners
Carpet runners are a good option for individuals on a budget. It is also one of the best-finished basement stairs ideas to ever exist. It's a carpet sheet that doesn't completely cover the stairwell. It usually just drapes the paved or hardwood stairwells.
Carpet runners come in many different designs, widths, and hues. These runners are essential for boosting the security of your slick staircase. This is because it creates a safer walking surface for your children and dogs, not to forget the enhanced relaxation provided by the plush carpet. Here is the factor to consider if you are choosing the best carpet runners for your basement stairs:
Runner's width
Pattern
Underpad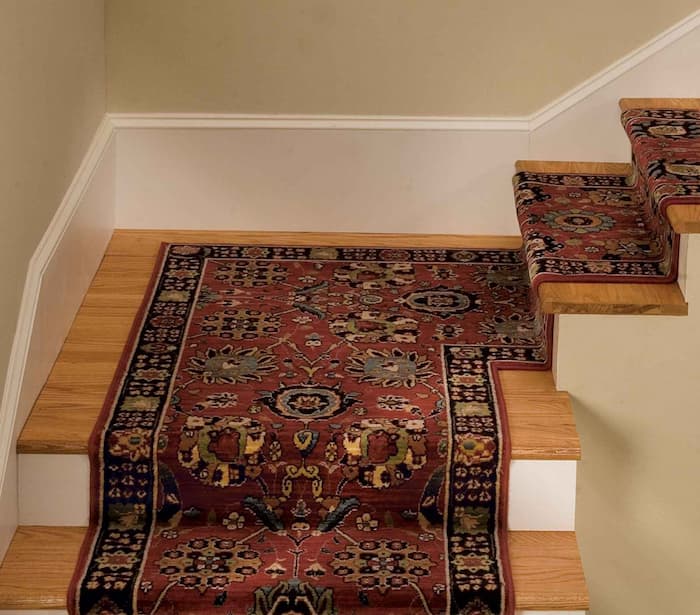 To install your carpet runners, follow the guidelines below:
Place the tackless strip for the runner on the floor.
Toss in the carpet pad by stapling it using an electric stapler.
Attach the runner carpet but make sure that it aligns with the stair using a framing square.
Advantages of installing carpet runners

Disadvantages of installing carpet runners

Carpet runners can help to enhance the look of the basement.
It's simple to set up.
The runner is much less inexpensive than the carpet.
It's simple to remove.

It does not completely hide the stairs.
Method 3: Vinyl Installation
Hardwood stairs require additional defense from insects and moisture, so coating them with vinyl could effectively keep these forces away. Vinyl can improve the appearance of the steps while somehow adding stability. It's also the greatest method to hide imperfections in wooden stairs.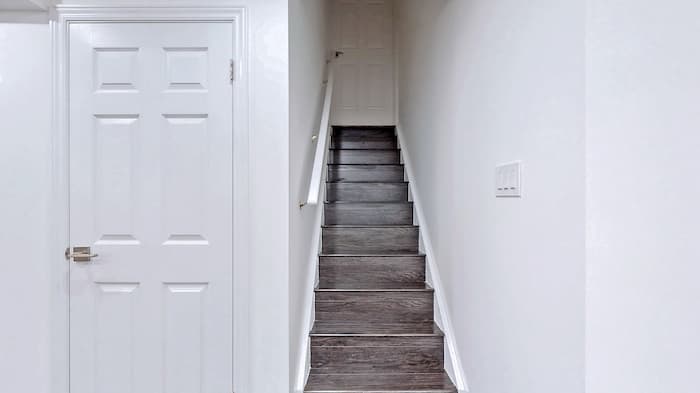 To perform this method, the following steps will teach you how to cover basement stairs with vinyl:
Before you begin putting your vinyl flooring, make sure the area is dry and warm.
Identify the stairs' measurement using a tape measure.
Stairs should be smoothed using wood putty for concrete stairs.
Stairs should be cleaned with water and soap.
Vinyl flooring should be cut to size.
Check to see if the vinyl pieces are perfectly aligned.
Place the vinyl flooring in its final position.
Advantages of vinyl installation

Disadvantages of vinyl installation

It is water-resistant.
It's simple to maintain.
It's not difficult to change.
It is inexpensive.

This may or may not be attractive to you, based on your preferences.
Method 4: Stair Painting or Staining
You shouldn't have to conceal the steps if you like the look of your basement. Rather, consider painting or staining it to update its appearance. If your basement has insufficient illumination, though, use light-colored paint.
A multi-colored patchwork or a stenciled graphic is simple to make. Paint your stair with enthusiasm, assuring that it fits the rest of the basement's overall look. In addition, you should ensure that the paints you're going to purchase conform with the country's low volatile compound and odor criteria.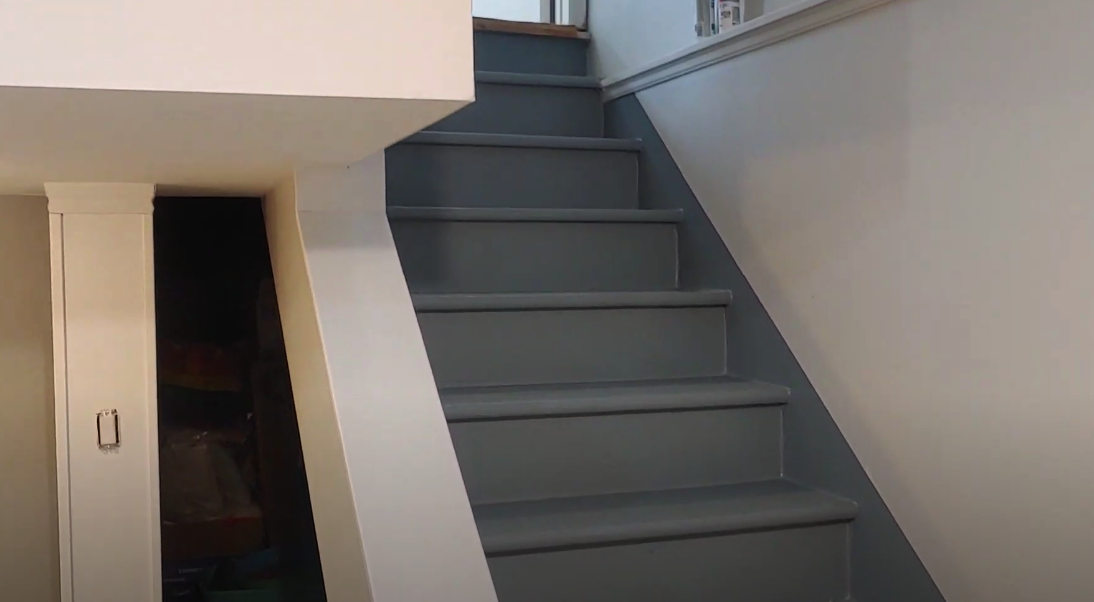 To guide you in painting or staining your open basement staircase, the steps indicated below are to be followed:
First, lightly sand the steps with medium-grit sandpaper in the direction of the wood grain.
Prepare the paint by stirring it thoroughly.
Before moving on to the risers, begin by painting the stair stringers with your brush. Ensure that the treads are the last to be painted.
Wait for its curing time.
Advantages of painting or staining stairs

Disadvantages of painting or staining stairs

Paints or stains are durable.
It is a low-cost option.
Paint requires less upkeep than other finishing materials.
It's simple to reapply.

Some paints obscure the grain of the wood, making the steps look unnatural.
Conclusion
Are you stumped as to what to work on and how to finish an unfinished staircase of yours? You may have unattractive and dangerous steps descending to your basement, relying on the architectural configuration of your residence. If you need someone who can help you turn your basement stairs into a safe and aesthetically pleasing one, drop us a call now at +1 (647) 428-0007!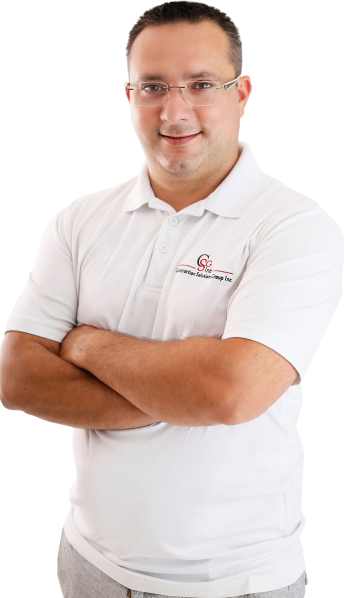 Your Dream Space, Right on Schedule!
Zeev, Founder
Get Free Estimate
and get amazing renovation with remarkable speed!