How to Install Laminate Flooring on Concrete Basement Floor
Choosing the right flooring for your concrete basement floor needs to be done with so much care. There are many factors to put into consideration when you want to install laminate flooring over concrete, especially when handling it as a DIY project. The aim is to ensure that the laminate flooring lasts long. 
There is a high risk of damage by excessive moisture when laminate flooring gets installed over concrete, this is worth bearing in mind when renovating the basement. Basements are the most humid areas in most homes due to condensation and they're also prone to flooding. However, if you prepare your concrete basement floor well, laminate is a very practical option. You may also want to consider painting your basement floor.
Why Choose Laminate?
Laminate flooring is a popular option for homeowners. This is thanks to its aesthetics, durability, ease of installing, cost-effectiveness, and scratch-resistance nature. Let's take a look at other reasons why many people choose to install laminate flooring in a basement:
Laminate flooring is very versatile. It can be installed almost anywhere apart from high-humidity areas like bathrooms.
Laminate flooring is sturdy and usually feels like hardwood, at a much lower price.
Laminate flooring comes in a wide range of looks. Homeowners are sure to find something that works for their homes.
Laminate flooring is made from wood shavings and plywood. This makes it a healthier option for people with dust-related allergies. If you've previously had trouble with PVC, you can't go wrong with laminate flooring.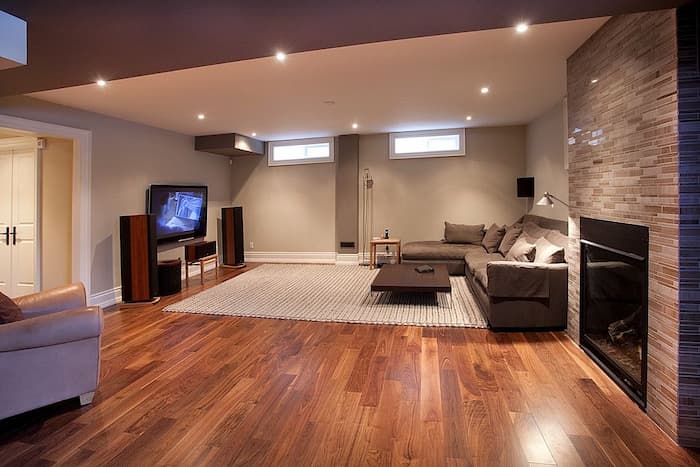 How to Install Laminate Flooring
For long-term performance, check to see that the concrete basement floor is dry, clean, and level. In this comprehensive guide, we'll give you all the information you need to learn how to install laminate flooring on the concrete basement floor. 
Step 1: Choosing the right underlay materials
Laminate flooring comes in different grades and qualities. While the decorative top surface is usually waterproof, the underside is made using wood particles. When these come in contact with moisture, they tend to warp and rot from below.
To avoid these problems, always choose the right underlayment. An underlayment helps the laminate flooring become more water-resistant. Some ideal underlayment options include vinyl-backed, foam barrier, and cork.
Step 2: Protecting the laminate from moisture
Contrary to popular belief, moisture can penetrate even hard materials like concrete. If you don't install a moisture barrier, moisture vapor causes the laminate flooring to warp over time.
Place a plastic moisture vapor barrier on the basement concrete floor and secure it in place using vinyl tape.
Step 3: Adding padding for comfort
Concrete floors are hard and they tend to feel cold and hard when one walks on them. The laminate itself isn't any softer. If you want the flooring to feel super comfortable under your feet, add a layer of padding on top of the moisture barrier.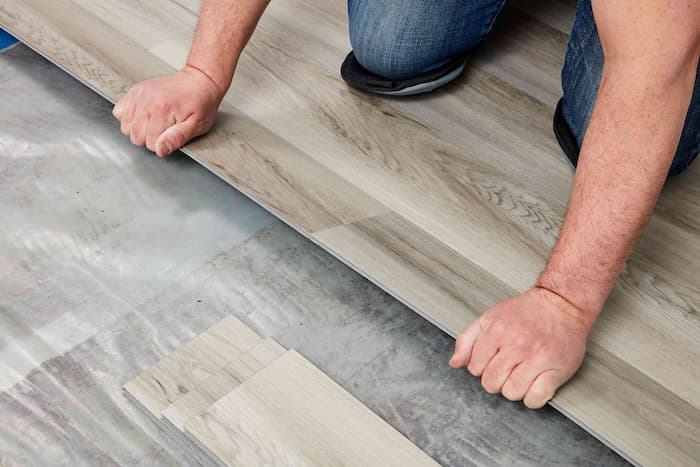 Step 4: Providing an even and clean surface for laminate
Before you install laminate flooring on the concrete basement floor, you should thoroughly prepare the subfloor. If the concrete is new, you should give it about a month to cure. This gives it ample time to give off excess moisture.
If the concrete floor is already installed, you should check for dryness, cleanliness, and level. Ensure that the floor is dry and free of dirt or any other unwanted particles. Lastly, check that the surface is smooth and level. Dips and bumps create problems later on because the floor starts squeaking and can easily come off. Cracks and uneven low spots need to be filled while all raised imperfections are eliminated. 
Step 5: Installation 
This process varies slightly depending on the type of laminate tiles and planks used. Overall, the supplies needed for the installation include adhesive, nails, saw, rubber mallet, tape measure, and a marker.
Carefully read through the manual before getting started on the installation. The manufacturer gives useful information like how and why you should leave a ¼ inch all around. Match the planks' tongues with the groove and then apply pressure when pushing them together.
High Standard Installations
The laminate flooring installation process is rather straightforward. If you efficiently manage to follow all the criteria we've given, you can rest assured that your floor will be done perfectly and last long. But if you're not sure you can do the installation perfectly, find a professional to do it for you.
If you decide to leave the installation to the professionals, CSG Renovation can help you. Call us today on+1 (647) 428-0007 to get an estimate.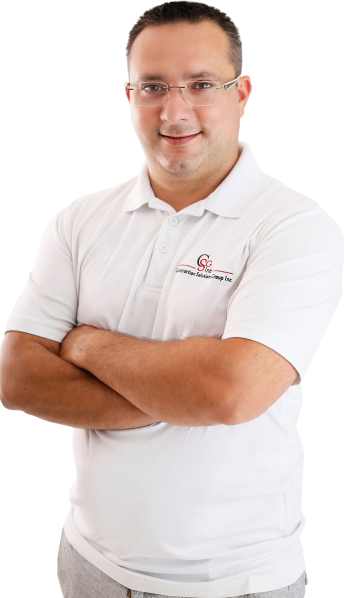 Your Dream Space, Right on Schedule!
Zeev, Founder
Get Free Estimate
and get amazing renovation with remarkable speed!