How to Cover Unfinished Basement Walls
The basements within numerous houses have either been cast concrete or concrete block. These components are durable and provide a solid basis for a residence, even though they're not exceptionally attractive.
While this might hardly impede if the basement's primary function is storing or laundry, cement walls will not suffice if the underground is to be converted into a lounge or man cave. While dry walling the partitions to match the areas on the higher floors of the house is an alternative, it can be time-consuming and financially burdensome.
There are a variety of additional ways to finish basement walls, spanning from a usual bucket of paint to expertly built basement wall completing solutions. We will go through some of the ways to cover unfinished basement walls, so you may transform your dreary basement into a welcoming living atmosphere. Apart from that, if you are thinking about finishing your basement, you will also want to consider another front of works and basement renovation cost.
Materials for Covering Unfinished Basement Walls
To assist you on how to finish a basement wall, the following are the possible materials and tools you need to conduct the method you pick from what is listed here:
Air hose
Corded drill
Hammer
Level
Tape measure
Pegboard
Wood panels
Beadboard
Drop siding
Mortar
Acrylic paint
Tinted Drylok
Wall veneers
Grout
Textured or patterned wallpaper
Wallpaper primer
Concrete sealant
Paint primer
Wall vinyl
Method 1: Treatments for fabrics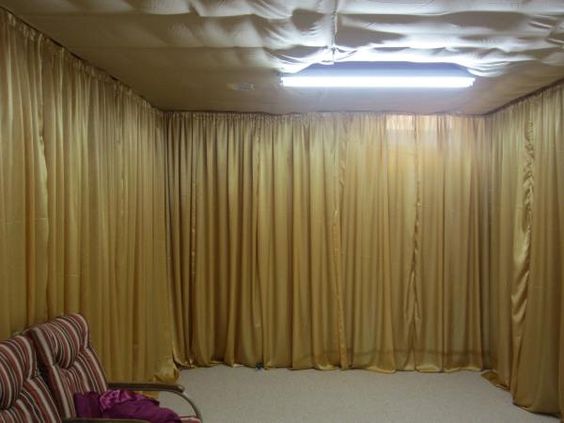 If you don't have leisure or big bucks to paint or plaster your walls, placing fabrics anywhere you can is a fairly economical and simple way to cover them. A long, silky curtain is one of the unfinished basement ideas that may transform a room into something gentle, cozy, and welcoming. You may also use these curtains to conceal a full wall to cover up the cement walls and create a wonderful environment.
If your basement serves as a master bedroom or a leisure zone, such as a family movie theater or a game area, installing a distinctive tapestry is a terrific option to not only add aesthetic appeal to the space but also to show off your personal taste.
Advantages

Disadvantages

Fabric is a cost-effective solution to cover your boring basement walls because it requires little in the way of resources and effort.
It's a terrific way to give a room personality.
It's a detachable installation, so you can easily take it out when you would like to try something different.

Curtains alone aren't often sufficient to conceal the unattractive concrete partitions.
Method 2: Construct a Peg Board Wall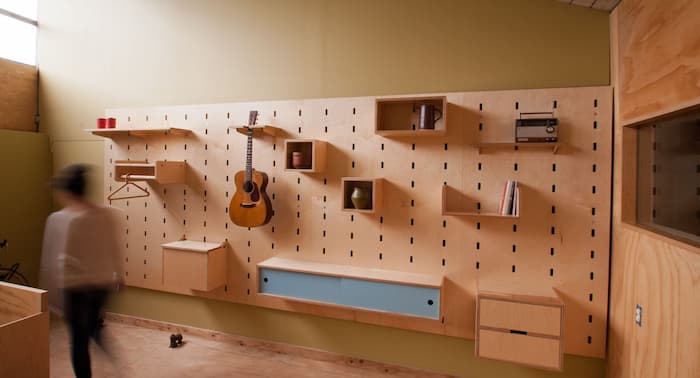 Creating a peg board wall is a great creative way of hiding a wall or several in your basement. Everything you have to do is to acquire a peg board that fits your wall perfectly and mounts it with some nails and bolts. It's available in a range of hues, or you may paint it any shade you choose.
This is a complete game in terms of organizing. There are so many alternatives for additional storage systems to your peg board, irrespective of whatever you utilize your basement wall for. If you operate it as a workspace, a system of peg boards and decorations is an inexpensive and practical method to manage your paperwork.
Advantages

Disadvantages

Pegboards are a fantastic method of maintaining incredibly sorted things, and there are so many storage attachments for peg boards that holding objects tidy and on show will be a snap.
By suspending and placing items on your wall surfaces, you may alleviate a lot of ground and closet space.

If you intend on plastering a whole wall with peg boards, they can be fairly costly.
Specific peg board textures can give the place an industrial vibe.
Method 3: Wood Paneling
Wood paneling on the walls will instantly limber up your underground. The inclusion of depth to your basement will greatly improve its attractive appearance, making it more appealing to build a living area within.
Wood paneling comes in a variety of styles, making it simple to include in your home because you can select one that matches your idea and your level of spending. With their lateral or straight forms, beadboard and drop siding provide an aesthetic aspect to the area. Cracked ceilings and bumpy cement floors can also be covered with wood paneling. If wood isn't your first option for basement walls, you may still achieve the aesthetic by paneling your roof or ground.
Advantages

Disadvantages

You won't have to worry about upkeep because wood paneling is highly sturdy. You'll be able to use it for many years.
You can reconfigure whatever old pallets you come across or have sitting elsewhere for a more cost-effective choice.
Wood paneling is a relatively simple technique that you may do alone.

Even though the assembly is pretty simple, it is not quick because you must take your time to verify that each component is leveled and conform correctly to the preceding one.
Method 4: Paint & Parging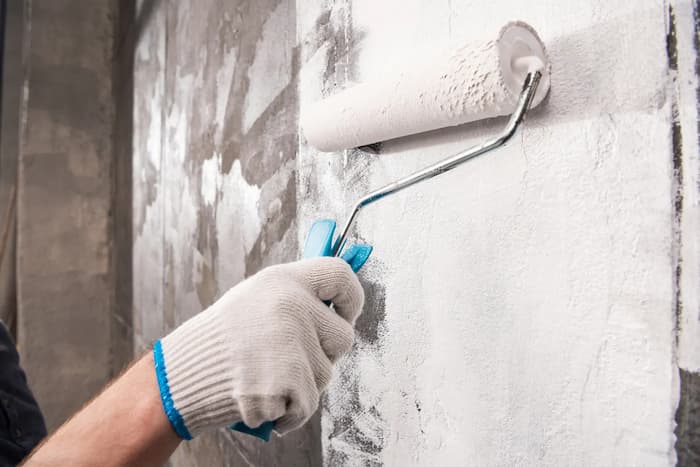 When you parge a wall, you use a thin coating of mortar to patch in and flatten out any irregularities. Because parge isn't particularly appealing on its own, it's frequently paired with the addition of a color palette.
When painting over the parge, guarantee that it's dried. After it has dried, paint your basement walls with acrylic paint of your preference. This method creates great finishing touches for an unfinished basement.
Advantages

Disadvantages

Since it straightens out the bumpy walls, parging is an excellent visual enhancement to your basement. Paint will simply brighten the space by applying color.
Parging lasts much longer than paint and does not fracture or discolor as fast.

When you paint above your parging, the paint will begin to peel away when it is subjected to humidity and sunlight.
Method 5: Drylok Masonry Waterproofer (Tinted)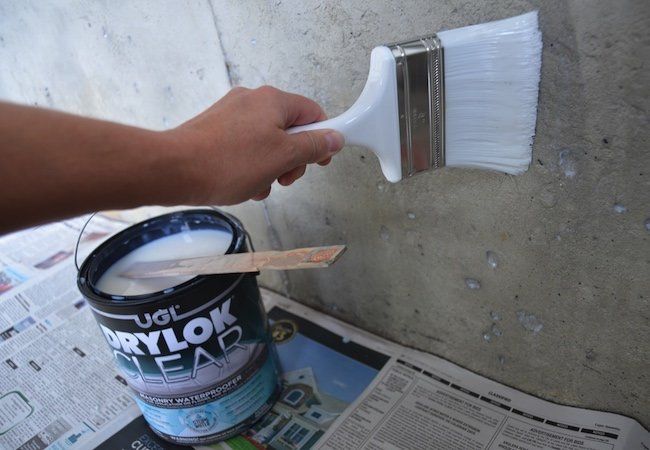 Applying tinted Drylok to cover your underground walls is not just a great method to make your basement more appealing, but it's also incredibly practical. The latex-based compound is exceptionally waterproof, preventing any liquid from seeping through the subterranean walls and safeguarding the property from severe climate.
Preparing your basement walls prior to the application of your initial layer of Drylok is recommended. To ensure that the Drylok adheres effectively to the basement walls, ensure they are dry and devoid of oil, filth, old paint, and flaking former coats of waterproofing. Plan your painting project for when the weather is clear and sunny so the Drylok may cure rapidly. Scan the surface for tiny holes after each application. These are small holes through which water can infiltrate. If you locate them, simply apply another layer to the affected spots.
Advantages

Disadvantages

Regardless of the fact that it is a waterproofer, this treatment is available in a range of hues, allowing you to liven up your basement in any color you like.
In addition, your basement will be waterproofed.
A gallon of the solution will cover 75-100 square feet of wall for under $35.

To acquire complete application on your walls, use at least two coats. This is not likely to be a rapid procedure, since each coat will take 3-5 hours to cure.
The cancer-causing ingredient crystalline silica is present in Drylok, according to the manufacturer.
Method 6: Veneers for the Walls (Stone or Brick)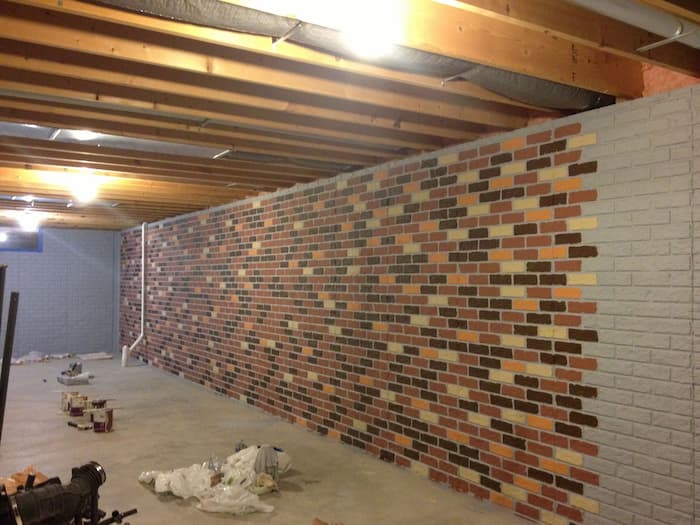 Wall veneers are an intriguing option to give your basement finishing a more aesthetic feel. Select a stone or brick pattern, and your basement will be transformed into a palace or a cozy cottage in an instant. You don't even have to paint the full basement, but you can pick an accent on a single feature wall to create a big statement.
The installation of wall veneers is a little more difficult. To avoid your wall looking messy or like a small cave about to collapse, ensure the stones cohesively interlock into each other. To enable the stones to stick to the walls, spread a mortar on them and then eliminate any residue once the veneers are securely fastened to the wall. The finalized project will require grouting, just like tiling.
Advantages

Disadvantages

There are a variety of designs to pick from, so you'll be successful in finding one that complements your home's entire appearance.
Regardless if you just cover a tiny surface, this strategy immediately transforms the atmosphere.
It is reasonably priced at around $8 per square foot. Stone costs roughly $12 per square foot for the brick variation.

It can be a tiresome and time-consuming operation since you must ensure that the veneers fit correctly and that any extra mortar is removed before it hardens.
Method 7: Wallpaper With a Design or Texture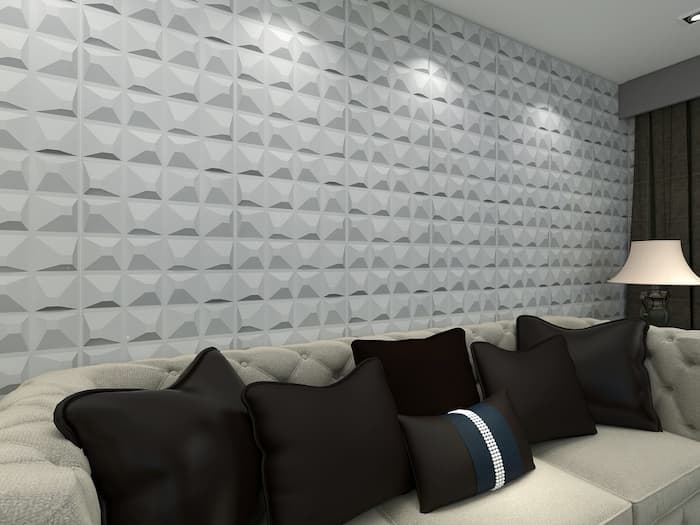 You don't want to preserve the unfinished cement basement walls if you use your basement for entertainment purposes on a routine basis. With embossed or patterned wallpaper, you can go from dull to fantastic in no time.
You only have to assure that the material you pick is suitable for basement walls, which are typically rough and permeable. Any defects on the walls should be sanded or chiseled away, as they will appear through the wallpaper and make it look unattractive. If you don't, the background will not be installed nicely.
Before putting your wallpaper, put your wallpaper primer and let it cure. Utilize a sponge to paste the wallpaper so that it will not slip into any crevices or cracks that you may have overlooked while preparing the panels.
Advantages

Disadvantages

Wallpaper is a fantastic way to add a decorative touch to any room.
When it comes to choosing wallpaper for your basement, you'll be spoiled for options with the range of styles accessible and the possibility to potentially build your personal bespoke wallpaper.

Because the basement is a high-moisture environment, your wallpaper may start to pull away from the surfaces as the adhesive weakens.
Wallpaper installation can be pretty expensive due to the additional materials required and the competence required.
Method 8: Painting the Concrete Walls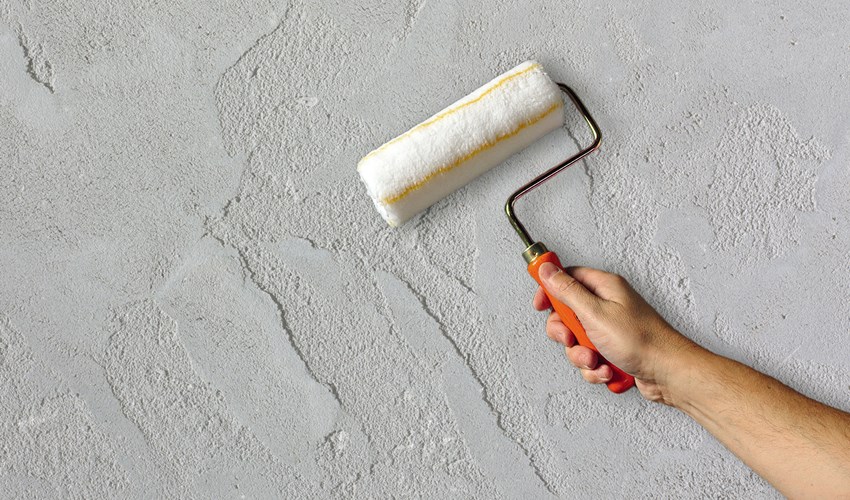 If you just paint the concrete walls of your underground, you bring up a world of possibilities for infusing color into the room. Nonetheless, the technique varies substantially from painting atop current walls or drywall in that you must coat the walls first before spraying the paint to guarantee that all gaps and irregularities are sealed, preventing mold and dampness from forming, which is frequent in basements.
To accomplish a better basement finishing, use concrete sealant. After putting the sealer in, you'll need to prep your walls before painting. Applying a primer makes it quicker for your paint to cling, which means you'll use little of it and save cash. After the primer has dried, you can paint your walls with a concrete-compatible paint of your preference, letting each coat fully dry between layers.
| Advantages | Disadvantages |
| --- | --- |
| By changing the cold concrete atmosphere into an appealing area, you will be able to fully enhance the interior. | You'll also need to buy a sealant and a primer, both of which are not cheap if you pick a top-notch one. |
Method 9: Hang Wall Vinyl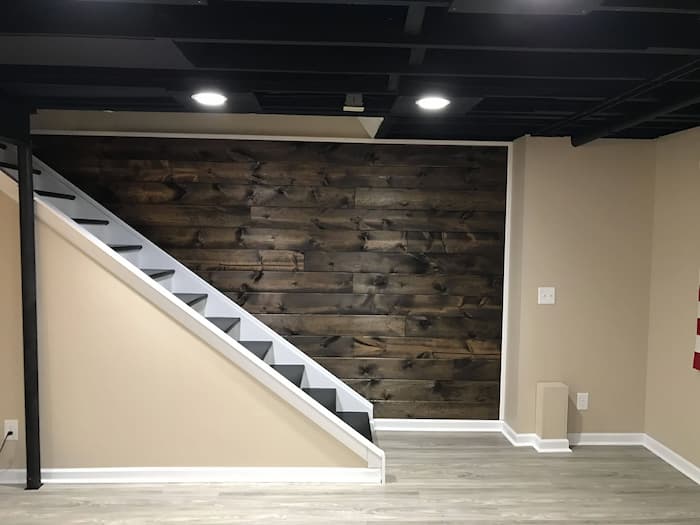 Wall vinyl is comparable to wallpaper in that it comes in a wide range of colors and textures and adheres solidly to your walls owing to its sticky component. Before the installation of the vinyl, ensure your walls are spotless and dry, then add a few coats of primer, just like you would with wallpaper.
Because the vinyl will be put firmly onto the wall, any defects or indentations in the wall will be visible. Occupy in any gaps to give the vinyl a much more classy appearance. This will also inhibit the vinyl from elevating and lessen the probability of having to supplant it too quickly. Heavy-duty vinyl is recommended by specialists because it functions well with concrete walls and is more resilient.
Advantages

Disadvantages

Because vinyl comes in an array of shades and styles, it gives your dungeon an artistic feel.
It is more straightforward to put than wallpaper because the vinyl is essentially a huge sticker that does not require an adhesive compound.

Based on the vinyl pattern you chose, coating a full wall or all of the surfaces in your basement might become rather expensive.
Conclusion
Mounting structure to cement walls and carrying hefty plasterboard sheets down a tight set of subterranean stairs aren't necessary steps in finishing a basement. There are plenty of ways to doll up your basement, you just need an extra dab of carefulness in choosing which method is best for you. If you are stuck with no ideas on how to finish a basement wall, feel free to communicate with CSG Renovation at +1 (647) 428-0007!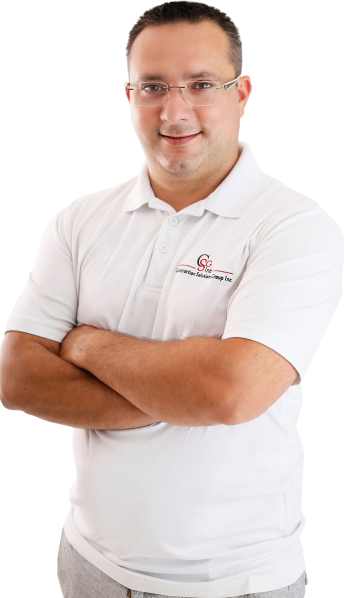 Your Dream Space, Right on Schedule!
Zeev, Founder
Get Free Estimate
and get amazing renovation with remarkable speed!