Condo Renovation Cost in Toronto
Toronto condo renovation costs vary depending on a large number of factors. Tentatively, the average cost is about $30,000 ($15,000-45,000) for an entire condominium.
When you renovate a condo, you may include your particular style into the architecture and structure of the property, producing a really distinctive and individualized living spot. Additionally, you can exactly meet your demands by remodeling the kitchen, bedroom, or bathroom in an outmoded condo without disregarding the cost of condo renovation and implementing your condo interior ideas.
Is It Worth to Renovate a Condo?
Is renovating a condo worthwhile? This may be a question that crossed your mind if you are pondering whether to keep or sell your condo. You may be wondering what the Toronto condo renovation cost is since it could be a deciding factor in your next step. Honestly, the condo industry is still quite popular with buyers, property owners, and builders if you want to sell it after condo renovating. Nowadays, a lot of prospective home buyers are searching for recently built, ready-for-move-in, and sophisticated structures. A specific market, however, is drawn to the advantages and conveniences that older structures offer.
Older condominium structures have amenities that are not present in current condos, in contrast to newer structures. For this reason, remodeling experts frequently advise remodeling an older condo with large square footage rather than purchasing a new unit that is significantly lower. To give you more context, jump right in, and let's talk about the condo renovation cost in Toronto.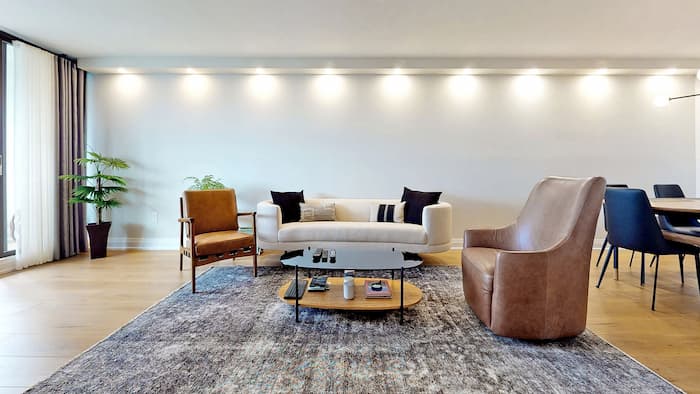 How Much Does It Cost to Renovate a Condo?
Condo renovation cost GTA varies depending on the materials and finishes you prefer. As an insight, we break down how much a condo renovation costs depending on the area you would like to remodel.
Kitchen Renovation Cost Toronto
The average price is approximately $30,000, ranging from an estimate of $15,000–$45,000. However, the kitchen renovation cost in Toronto might go up between $50,000 and $60,000 if custom high-end fabrication is used. It is really fascinating to find out that when you market your condominium, a kitchen remodel might generate a return on your investment of between 75% to 150%. The kitchen renovation cost Toronto stated above will account for the following:
Cabinets – $500-$650 per linear foot.
Countertops – $80 per square foot (average).
Backsplash – $15-$80 per square foot.
Kitchen Flooring – $10-$15 per square foot for wood, while marble and porcelain tiles start around $15.
Installation Labor – Around 15% to 17% goes to labor.
Bathroom Renovation Cost Toronto
The bathroom renovation cost Toronto starts at $100 per sq. foot and gets more expensive from there. Among the most affordable condo remodeling jobs is renovating the bathroom, which may increase the worth of your property by a minimum of 75% of your outlay. The common fixtures cost about:
Toilets and sinks – $200-$1,800.
Vanity – $300-$4,800.
Countertops – $200-$2,000.
Showers – $300-$3,000.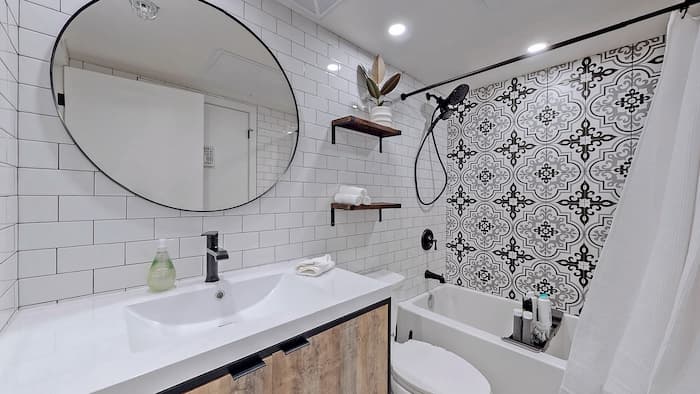 Bedroom Renovation Cost Toronto
For reference, a bedroom renovation may cost as little as $4000 or as much as $15,000 on the premium end. This will add the value of condo renovation cost in Toronto, which you should anticipate before starting your condo renovation project.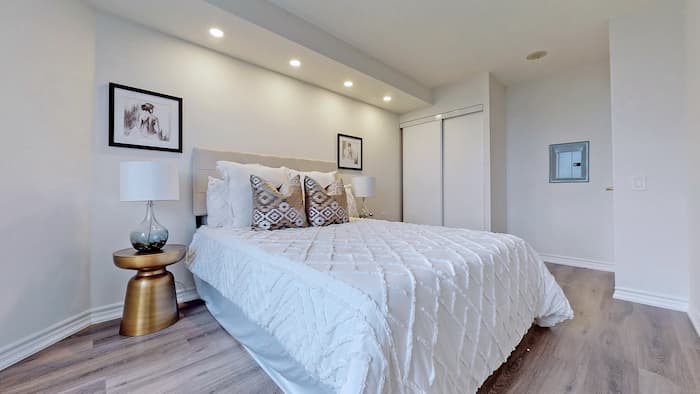 Budget for Permits, Design, and Other Behind the Scenes Expenses
Demolition. If it is suggested to demolish all of the building's walls, both structural and between condos, there would be an added cost of condo renovation. The Toronto condo renovation cost for demolition is much higher than in a residential project because this part of the building involves hauling all rubbish down a staircase in containers or bags and dumping it. The general contractor will set the price for the preliminary work, such as leveling and stripping, that must be done before demolition. Demolition charges for projects range from $80 to $110 per square foot.
City and Construction Regulations. Co-ops typically have very tight renovation rules, thus an architect will probably be required. To mitigate any potential damage, some properties will require security deposits or insurance coverage minimums. Typically, these facilities require more expensive technicians. Plumbing permits can occasionally cost up to $5,000, making them exceedingly expensive. This raises the cost of condo renovation higher.
Overhead Costs. Estimating overhead costs can indeed be difficult. Although precise labor costs can be calculated, they are also significantly influenced by certification and other criteria, which might result in very high expenses. Labor costs often include the hourly rate as well as charges for licenses, insurance, and other pertinent overhead. Typically, a technician will keep 10% to 15% of the Condo renovation cost in Toronto.
Design and Structures. A skilled designer as well as an architect may be required, relying on the activities and operations to be performed. Typically, these professionals will bill a set fee or a portion of the condo renovation cost GTA. Additionally the works for the structure will be:
Works
Low-End
Mid End
High-End
$2,100
$5,600
$5,800
$10,500
$4,000
$10,000
$2,500
$5,900
$3,000
$7,000
$3,000
$7,000
$3,200
$8,500
$2,700
$5,400
$7,800
$24,100
$6,900
$14,500
Can be none
$10,000
How Much Does it Cost to Renovate a Condo Per Square Foot
You are surely asking how much the cost of renovation per square foot in Toronto is if you're considering doing it. Currently, you'll have to spend about $100-$200 per square foot to completely rebuild it and change nearly each of its elements with mid- or high-end building materials. For a wider scope, here's what entails the Toronto condo renovation cost per price range:
$100-$200 per square foot. Items that are offered at nearby retail stores can be purchased for between $100 and $200 as a cost of condo renovation per square foot. Even so, the task is typical, particularly if one is dealing with an amount greater than $150. There will likely be some quick cuts taken when working with budgets below $150.

$200-$300 per square foot. The next-level Toronto condo renovation cost offers some customizability and has a cost between $200 and $300 per square foot. The works in this category focus mostly on inside wall modifications rather than outside renovations.

$300 per square foot or more. Here, it will probably require restoration work, such as condo consolidation or layout changes if your cost of renovation per square foot in Toronto is $300 or above. It contains the locations in which one wants to relocate walls, put in stairs, or rewire the electrical system. The condo renovation cost GTA increases if you add more kitchens and bathrooms because those rooms often cost more. Further than this point, things become more unique and tailored and require top-notch craftsmanship.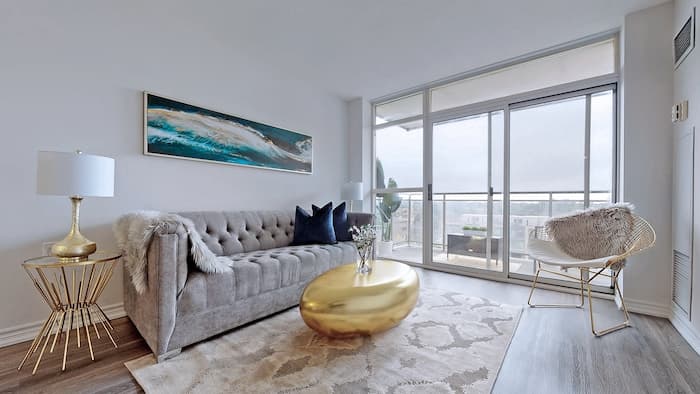 Conclusion
Your preferences, the grade of the materials, and the home appliances you choose will all affect the condo renovation cost in Toronto. You should therefore be precise about what you require and desire for your condo unit. The cost may dramatically increase if your priorities are not crystal clear. In order to effectively discuss all of these with the builder, a proper exchange of information is essential to set how much a condo renovation costs. However, keep in mind that whatever budget you create should include a 20% to 25% buffer cost or contingency to cover unforeseen expenses like mold cavities caused by a leakage or sewage problems.
Should you have any inquiries about condo renovation costs in Toronto and would like to work with CSG Renovation, please give us a call at (647) 428-0007.
Get Your Condo Renovation Estimate in Toronto
Related Articles
Condo Cost
Cost Per Square Foot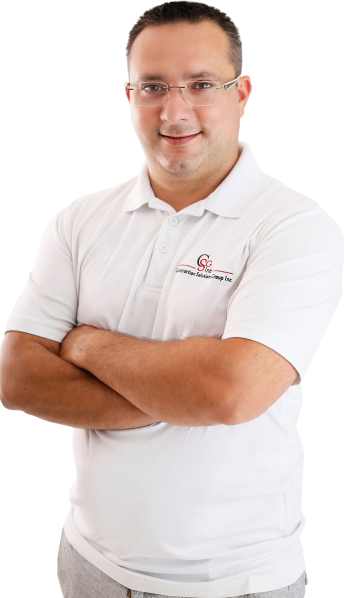 Your Dream Space, Right on Schedule!
Zeev, Founder
Get Free Estimate
and get amazing renovation with remarkable speed!